BTS's Jungkook recently gained attention after calling out fans who had sent food to his private home address.
In the past, Jungkook has proven that he always loves interacting with fans. Like the rest of the members, he can never stop showing love towards ARMYs.
Yet, like any human, he has always been clear with his boundaries. During live broadcasts, Jungkook has called out those phoning him during broadcasts…
You're watching the VLIVE, right? Who are you? Don't do it. I don't like the phone call ringing sound. I'm annoyed and it's scary. I'm getting goosebumps. — Jungkook
Yet, it seems as if despite Jungkook's polite requests for ARMYs and fans to respect the members and their personal time, the idol has had to take to Weverse after another inappropriate invasion of his privacy.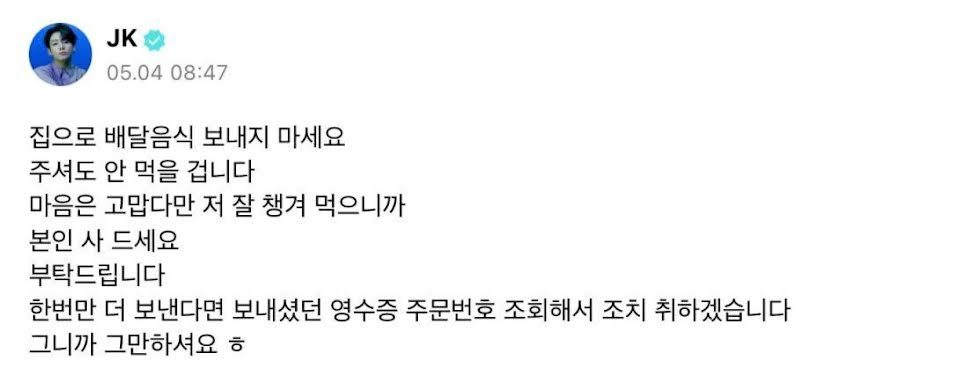 When the post was shared, ARMYs couldn't stop sharing their anger at the "fans" who made Jungkook feel uncomfortable.
One fan pointed out that although Jungkook said he was "thankful" for the gesture, it didn't mean he was okay with it happening.
While Jungkook and BTS have always shared their willingness to interact with fans, they also know boundaries are needed and aren't afraid to call people out. Idols might be celebrities and fans who want to share love, but it shouldn't come at the cost of their privacy.