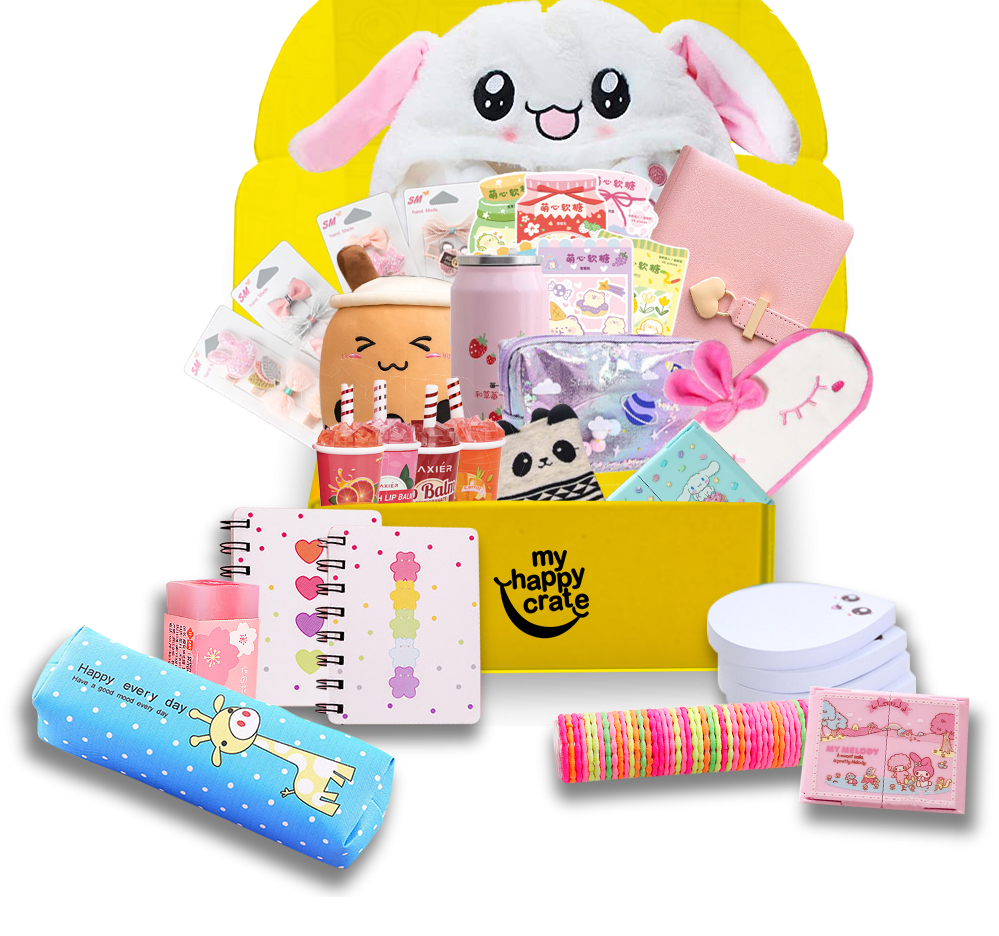 If you  are a certified Kawaii, who loves everything and anything cute and dainty, then our Kawaii Happy Crate is for you! This crate is carefully curated to include quality goodies ranging from accessories, stuffed goodies, stationeries & even kawaii fits! 
Frequently Asked Questions
What can I expect the contents to be?
We build your kawaii crates filled with super cute combination of goodies! You can expect anything & everything from accessories, outfits, stationeries, stuffed goodies and a lot more! This is definitely the kawaii-est crate that will make you happy bi-monthly!
The Happy Crate Box measures 9" x 9" x 4"
Please be guided accordingly.
When will you ship my order?
appy Crate Subscription Delivery Schedule 2022
January 2022
March 2022
May 2022
July 2022
September 2022
November 2022
Is My Happy Crate Subscription $69.95 per box or is it all I pay for 6 boxes?
The Happy Crate is $69.95 per crate shipped every 2 months. In total, we ship 6 boxes in a year. Subscribers will be charged $69.95 every 2 months upon renewal.
Is there a commitment if I subscribe?
Yes, indeed. Please note that Happy Crate subscriptions have a 2-crate commitment. This means that if you cancel, your cancellation will take into effect after you get charged for your second crate.
Needless to say, you can still cancel anytime and your subscription will no longer renew after your second crate. If you have received more than 2 crates already, then your cancellation will take effect
Immediately. Note that cancelling will only cancel the next renewal. You will still continue to receive the most recent paid crate and the cancellation will take effect for future crates. Cancellations will not provide a refund for paid boxes.
Reach out to us via Live Chat or email at support@myhappycrate.com for further assistance :)
When is the best time to subscribe on the My Happy Crate subscription?
Now is the best time! Just be mindful of our Happy Crate delivery months. For best guide, check out the timer we have all over our site!
When will I be billed if I subscribed to My Happy Crate?
You will be billed immediately as soon as you placed an order.
For subscription customers, you will be billed the moment you sign up. Your renewal will then be on approximately the same date every 2 months. For example, if you subscribe on February 2022 , your renewal will be billed on April 2022.
What methods of payments do u accept?
We accept Paypal & major credit cards
What currency are your pricing based on?
Our prices are in US Dollars. You can purchase using any currency but will be charged the US Dollar equivalent.
Due to the present restrictions in shipping ports worldwide, My Happy Crate shipping is currently only available for the following countries:
United States of America*, Canada, United Kingdom, France, Germany, Belgium, Italy, Spain, Sweden, Australia, Japan, Luxembourg, Ireland, Greece, Bulgaria, Finland, Singapore, Greece, Austria, Croatia, Czech Republic, Romania, Denmark, Mexico, Hungary, Malaysia, Estonia and Portugal
We will be open to more countries once the pandemic restrictions have eased.
*USA shipping is not available in 5 States ( Hawaii/Puerto Rico/Guam/Armed Forces Pacific/Alaska/ due to freight restrictions
How much does shipping cost?
Shipping is calculated upon checkout based on your location and number of crates purchased. It will be shown upon checkout before you pay :)
How can I track my order?
Once we ship your order, you will receive email updates with a tracking number. You can also message us on our live chat at myhappycrate website or email our super friendly support team at support@myhappycrate.com
K-Advent Calendar and My Happy Crates are final sale. Due to the limited availability and customized nature, we are not able to cancel or issue refunds at the moment.
Oh how we wish governments would stop charging customs taxes, but unfortunately, that's not within our control. Some countries, not all, have imposed customs taxes and are randomly charged. Due to this, customs and duties charges are of full responsibility of the buyer.
I have more questions, how can I reach out to you?
We absolutely would be happy to help you! You can email us at anytime at support@myhappycrate.com and our friendly representatives will gladly assist you. We typically respond to your emails within 24 hours. Furthermore, we have a 24/7 live chat support in our website myhappycrate.com, please feel free to message us at anytime!