K-ADVENT CALENDAR 2022 IS NOW AVAILABLE!
TIME LEFT UNTI

L
K-ADVENT CALENDAR 2022
PRE-ORDER OPENS!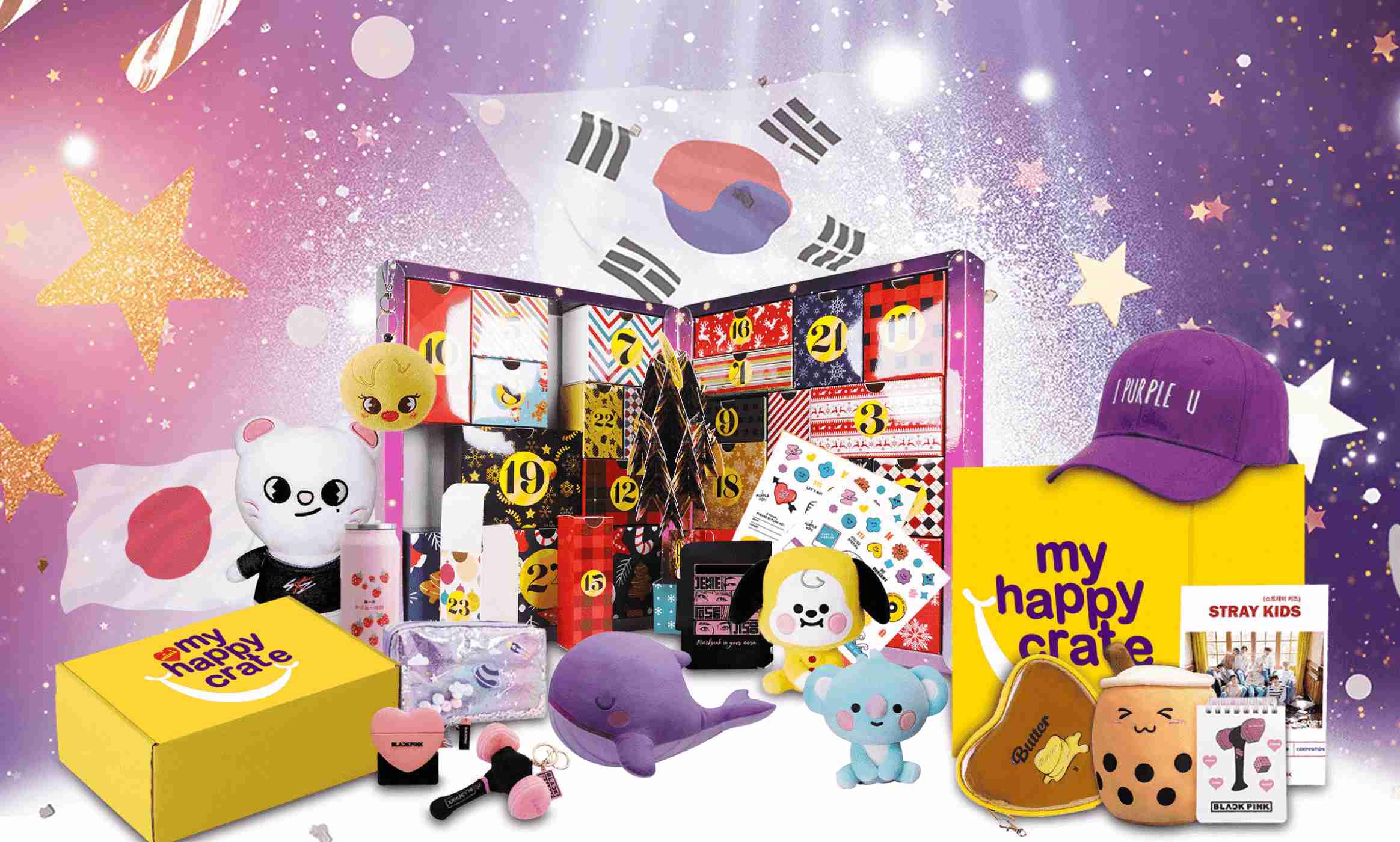 Choose your K-Advent Calendar 2021 Theme
Tap or click your chosen theme below
FREQUENTLY ASKED QUESTIONS
MUST READ BEFORE PURCHASE
What is My Happy Crate's Limited Edition 2021 Pop-Up K-Advent Calendar?
2021's Limited Edition K-Advent Calendar is My Happy Crate's best loaded Pop- Up Advent Calendar yet! Immerse into your festive Christmas spirit unboxing a gift each day leading up to Christmas! Unbox 24 gifts based on your chosen theme under the Happy Crate Christmas tree!
What's inside the Pop-Up K-Advent Calendar?
Open the delightful pop up Advent Calendar to reveal a beautiful 9-inches tall pop-up Happy Crate Christmas tree with 24 surprise gift boxes beneath it filled with surprises and goodies based on your theme of choice that will delight you each day leading up to Christmas!
What is the size of the 2021 Advent Calendar?
35cm x 30cm x 10.16cm (folded)
35cm x 60cm x 5.08cm (opened)
Pop Up Tree is 22.86cm
The 24 gift boxes are randomly sized based off 33cm x 28cm (each side)
Please be guided accordingly.
When the K-Advent Calendars are sold out, will they be produced again?
The K-Advent calendars are only produced in limited quantity and will not come back after they sell out. #limited
When will you start shipping the Advent Calendars?
Shipping starts on November 1st and would normally take 7-10 business days on average. Note that it may take a bit longer on some countries due to COVID-related restrictions. We ship on a first-come first-served basis so the earlier you order, the earlier your calendar will be shipped. So make sure to pre- order yours early if you want to start your unboxing on December 1st. Meanwhile, you can always catch up and start your unboxing once you receive your Advent Calendar ;)
If I order the Gift Set with Subscription, will I get the K-Advent Calendar & the subcription crate together?
No. If you order the K-Advent Calendar + Mini Happy Crate Subscription Gift Set AND/OR the K-Advent Calendar + Big Happy Crate Subscription Gift Set, your first regular crate (January Crate) will be shipped on January 2022, following the subscription shippiing schedule. Only the Advent Calendar will be shipped to you prior to Christmas 2021.
K-Advent Calendar and My Happy Crate Purchase orders are final sale. Due to the limited availability and customized nature, we are not able to cancel or issue refunds for these at the moment.
What methods of payments do you accept?
We accept major credit cards.
Is my payment information safe?
Absolutely! Our payment processing system is 100% secure. Our technical internet security team is dedicated to giving you a safe and secure shopping experience
What currency is your pricing based on?
Our prices are in US Dollars. You can purchase using your country's currency but will be charged the US Dollar equivalent upon checkout.
SHIPPING & TRACKING ORDERS
How much does shipping cost?
Shipping is calculated upon checkout based on your location. It will be shown upon checkout before you pay :)
Can you ship to my country?
Due to the present restrictions in shipping ports worldwide, My Happy Crate shipping is currently only available for the following countries:
United States of America, Canada, United Kingdom, France, Germany, Belgium, Italy, Spain, Sweden, Australia, Japan, Luxembourg, Ireland, Greece, Bulgaria, Finland, Singapore, Greece, Austria, Croatia, Czech Republic, Romania, Denmark, Brazil, Mexico, Hungary, Malaysia, Cyprus, Estonia and Portugal
We will be open to more countries once the pandemic restrictions have eased.
How can I track my order?
Once we ship your order, you will receive an email update with a tracking number. You can also message us on our live chat at myhappycrate.com website or email our super friendly support team at support@myhappycrate.com
Oh how we wish governments would stop charging customs taxes, but unfortunately, that's not within our control. Some countries, not all, have imposed customs taxes and are randomly charged. Due to this, customs and duties charges are of full responsibility of the buyer.
You can email us at anytime at support@myhappycrate.com and our friendly representatives will gladly assist you. We typically respond to your emails within 24-72 hours. Furthermore, we have a 24/7 live chat support in our website myhappycrate.com. Please feel free to message us at anytime!